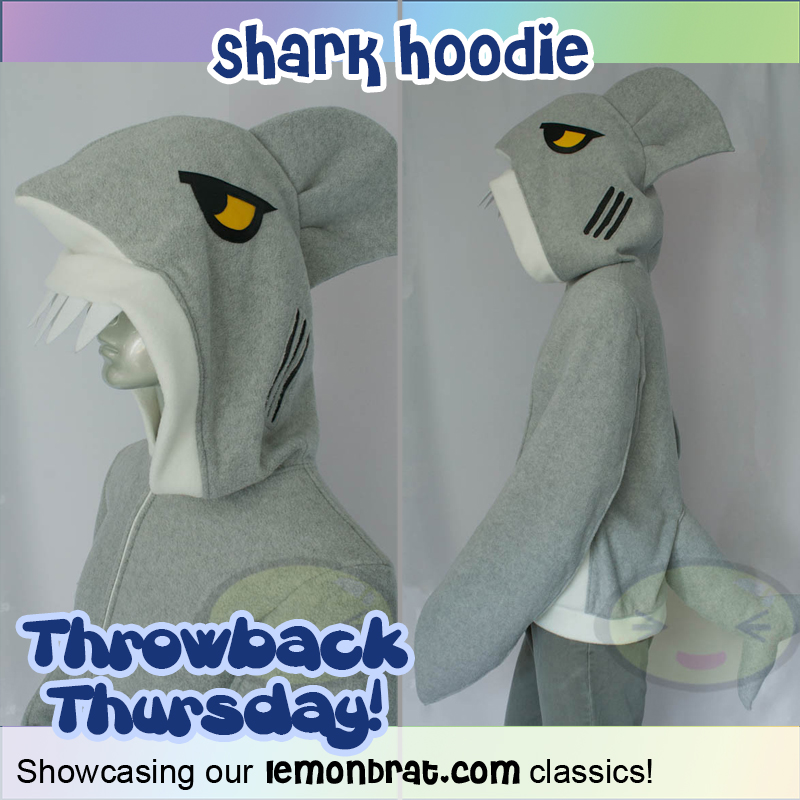 Just when you thought it was safe to back in the water, the shark hoodie has surfaced!  This ferocious predator from the deepest depths has a distinctively wedge-shaped head for a hood and fin sleeves!  We cut pieces of faux leather for the eyes and the gills to add some more details to the overall hoodie.
Get your own apex predator hoodie by checking out all the great options on Lemonbrat.com!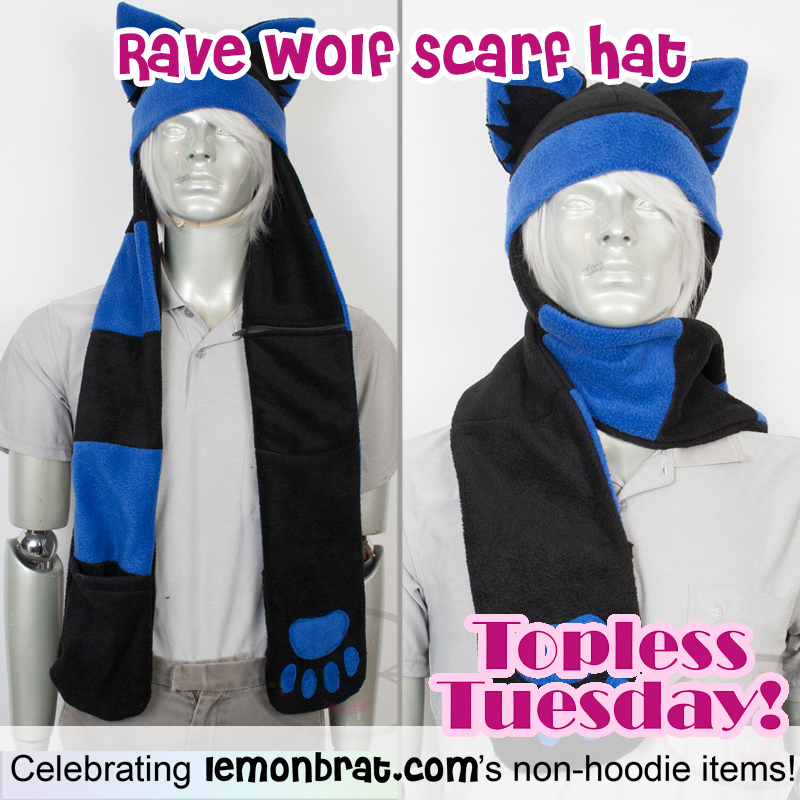 It's getting colder, but there's no need to fear!  We've got you covered…literally!  Our rave wolf scarf hats are warm, comfy and come in a variety of colors!  The scarf paws double as comfy mittens and there's a zippered pocket on the left side that can hold most models of cell phones or other necessary odds and ends.  Check them out on Lemonbrat.com!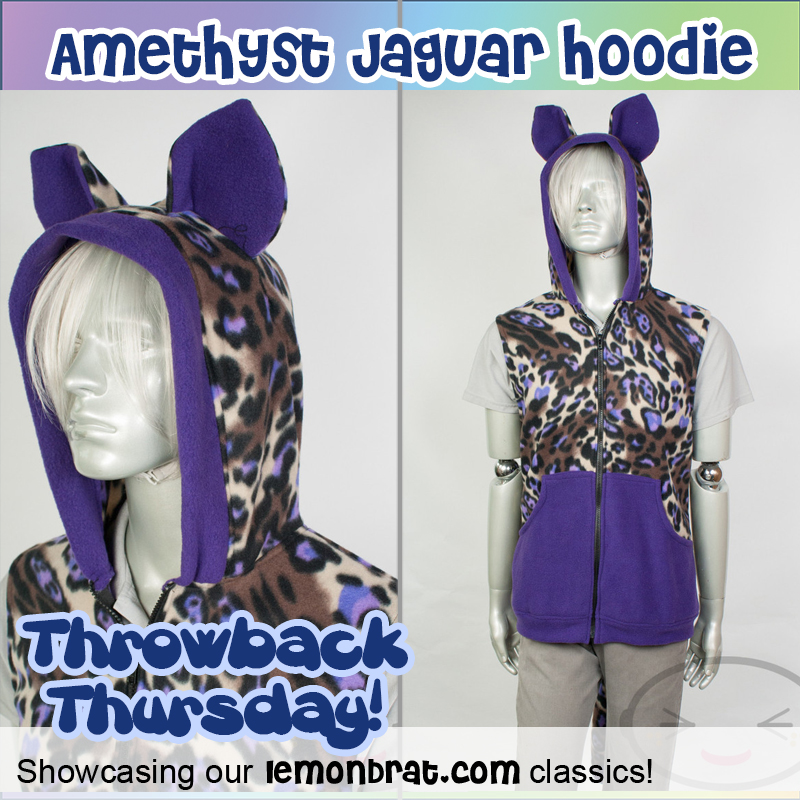 We have a wide variety of fanciful felines, but none are quite as eye-catching as the Amethyst Jaguar!  We use a rich, vibrant purple for the hem of the hood and body as well as the pockets and inner ears.  It compliments the purple notes in the jaguar fur patterned fleece that makes up the body of the hoodie!
See the Amethyst Jaguar and more on Lemonbrat.com!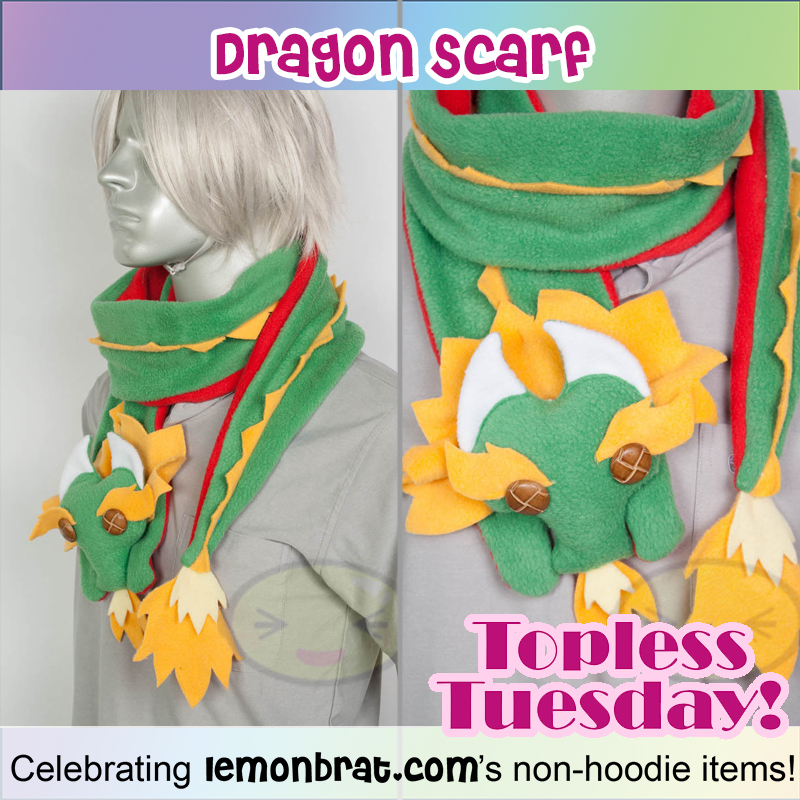 Checking in at 60 inches long, this ancient and powerful dragon is more than happy to snuggle up with you as an adorable scarf!  As with all our items, the dragon scarf is handmade and comes with charming wooden button eyes!  Order one for yourself at lemonbrat.com!
We've had a lot of fun requests for dragon's over the past year.  Some of them have been really complex, but even the simplest ones have been totally gorgeous.  The yellow dragon is a fantastic example of a simple design that is striking and adorable.  We didn't change much beyond the colors of our black dragon hoodie, but the addition of a sweet mohawk and large bat ears definitely make it stand out!
Get a custom hoodie of your very own by checking out http://lemonbrat.com/pages/customs
The beautiful Teal Swirl Wolf Custom Hoodie is an uncomplicated design with some incredibly intricate details.  The main body begins with our basic wolf hoodie design done entirely in white with a wide fluffy tummy panel.  From there, we had a series of hand cut and hand sewn spiral and starburst designs that were done in a bright teal.  Those details were a real challenge because they needed to be lined up to preserve the hoodie's symmetry, but we think we nailed it!
Your own custom can be as complex or simple as you like!  Learn more at http://lemonbrat.com/pages/customs
RAWR!  This custom white lion hoodie turns the ruffles up to 11!  We adapted out classic lion hoodie for this project.  The mane was extended into a mohawk across the top of the hood that extends around the neck and shoulders.  We incorporated our wide tufted tummy design into a full fluffy back design by extending it over the shoulders.  The overall affect is a fearsome, distinctive lion hoodie that rocked out socks off!
Get your own custom hoodie, backpack and more by visiting http://lemonbrat.com/pages/customs
This Horned Dragon Lizard is one of the adorablest backpacks we've ever made!  The eyes, mouth and nostrils on this one are all hand cut pieces of faux leather.  Unlike other backpacks that we've made, the face of this one protrudes a bit into a short snout.  We also did custom striping on the tail and tufting along the outer edges of the head and bottom!
Check out all of our backpacks at http://lemonbrat.com/collections/backpacks
Get your own custom backpack at http://lemonbrat.com/pages/customs
The Persian Cat Custom Backpack is another great example of a Lemonbrat classic that's been chopped and altered to create something unique and interesting!  Our black cat backpack was used as a base for this piece.  The tail was altered with custom, tufted striping and a layered hairdo was added out of hand cut fleece panels.  Done up in a bright and bold hot pink, this backpack is ready for any party!
Check out all of our backpacks at http://lemonbrat.com/collections/backpacks
Get your own custom backpack at http://lemonbrat.com/pages/customs