anime
Our pick-up coupon codes allow you to place any order you could want and pick it up at the convention from our booth during dealer's room hours. The coupon codes are valid until 1 week before the convention.
Use the code to guarantee you get the item you want in the size you need and remember – you can also place an order for custom items with sleeves, color swaps and other sweet options! We'll have it ready and waiting for you and you won't have to pay for shipping!
Convention season is well underway and we've been super busy at the Lemonbrat Studio.  Between packing up for shows and finally finishing up our spring cleaning we've barely had time to take a breath!  Luckily, we've slowed down just enough for me to reach out to all you wonderful followers and give you an update on what sort of mischief we'll be getting up to in July.

First up on our list is Anthrocon in Pittsburgh, PA, July 3rd-6th.  This is the biggest fur show of the year and we're sending Barb and Mike undercover to see what sort of mysteries they can uncover about this year's theme – Secret Societies.  We're expecting a lot of cryptic handshakes and passwords from everyone who comes by the booth to check out our animal hoodies, tail & ear sets and more.  Make sure to announce "The Husky Howls for Cheeseburgers" if you're interested in getting a custom item based off your own character or fursona!
Join in on the Anthrocon fun by checking out our Facebook event here – https://www.facebook.com/events/323810734436762/

While Barb and Mike engage in covert ops (which sounds hecka-cool), Matt and Ryan will be representing some hometown pride at Anime Midwest in Rosemont, IL, July 4th-6th.  Since 2011, Anime Midwest has been growing and we're always happy to support another great con in our own backyward!  Get your adorable on with all our greatest hits – animal hoodies, tails & ears, rave gear and more!
Join in on the Anime Midwest fun by checking out our Facebook event here – https://www.facebook.com/events/1620302481529012/

Wrapping up the month of July is an old favorite of ours, Anime Iowa in Coralville, IA, July 25th-27th!  We've been going to this radtacular gathering for over 3 years now and we're chomping at the bit to head out and see all you Hawkeye State natives again!  Matt and Ryan will be teaming up to take on this show and you better believe they're bringing a torrential downpour of cuteness that you are not prepaed for!
Join in on the Anime Iowa fun by checking out our Facebook event here – https://www.facebook.com/events/308929249269569/
With the launch of our updated Custom Gallery, we're tossing out another Custom Showcase!  This time we're looking at one of our dress-style hoodies with Andi's Dress.  Our dress bodies are a slightly longer hoodie without a zipper that have a slightly more feminine fit.  Of course, this doesn't make the pull-over style strictly for ladies and we do offer pull-over options for all of our unisex hoodies as well.
Accompanying Andi's Dress is our incredibly popular Anime Lion.  This piece gets a lot of buzz over on our deviantART page.  It is definitely tricked out with all sorts of cool options and…well, I'll let you guys take a look for yourselves.  It is just too damn cool to try and explain with words!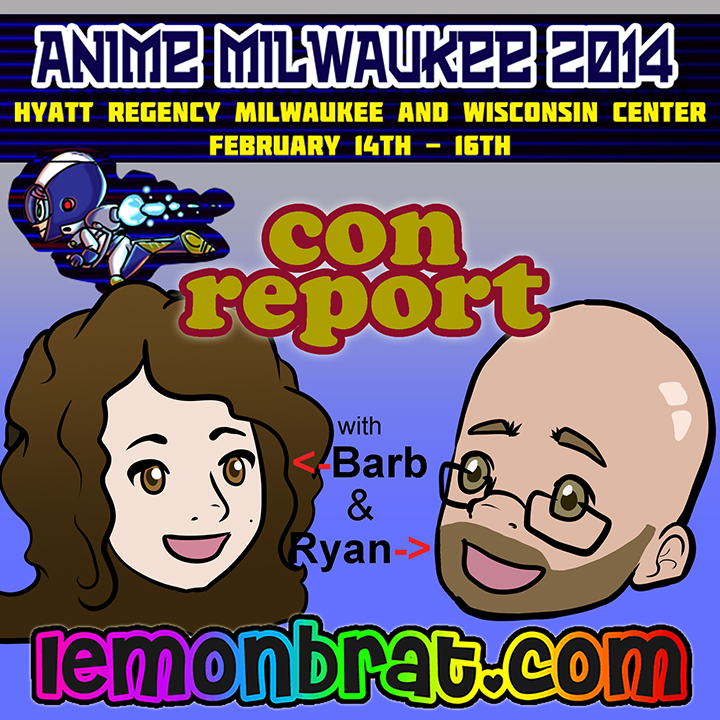 I'm going to be honest with you guys – I can barely lift my arms to type this con report.  Anime Milwaukee was so much fun that I'm still exhausted.  We were lucky enough to score a great spot in the dealer's room this year and we had non-stop traffic from beginning to end.  On top of that, AMKE really pulled out all the stops to make sure that the Lemonbrat crew had plenty to do after hours!  It's hard to believe that we were only up in Milwaukee for 3 days, but what a great 3 days they were…
Anime Milwaukee was hosted in the Hyatt Regency Milwaukee and Wisconsin Center.  The venue is top notch with great decor, friendly staff and skyways to help bridge the gap between the convention center and the hotel ( a must for winter cons).  This was Lemonbrat's 2nd year at AMKE, but the clean layout and helpful signage made it feel like a con we've been attending for twice as long.
The Lemonbrat booth was a behemoth this year, encompassing a whole corner of the dealer's room.  We had all of our classic hoodies on display as well as a few newbies to the line-up.  The Good Sheep and Baaad Sheep hoodies were hung up across from a bright pink squid hoodie that featured deluxe tentacle sleeves.  And ghese weren't the only new thing in town – we also had all new banners and signage to showcase the hoodies, The Little Woods, the Fruit Bats and the grand return of our dress-style hoodies!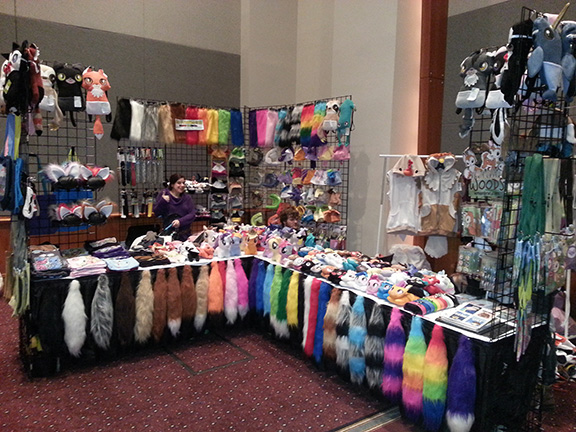 There were a lot of other great sites to see in the dealer's room, too.  Barb spent a disturbing (yet understandable) amount of time hanging out at the Feral Works table.  We currently have one of their velociraptor busts hanging in the bathroom.  Jeanette got some cute new red panda earrings from Sorbet Jungle and I began building my dream backpack with the guys from Equilibrium.  The AMKE staff should be commended for keeping the traffic flowing smoothly through both the dealer's room and the artist alley areas.  And speaking of staff, how cute are the Hyatt staff in their very own AMKE colored furry ears!  We whipped these up for them before the con and it was a delight to them being worn all weekend long!

It should come as no surprise that we love Anime Milwaukee.  Even if you look past the fact that it's close to home, AMKE is a party con of the very best quality and we're already looking forward to 2015!
.
.
What a wonderful weekend Corey and Lucie had at Anime Apocalypse this year!
.
The convention was held at the wonderful Clock Tower Resort in Rockford, IL . Corey and Lucie enjoyed the growth of the convention which rounded out the year on an excellent convention! Corey managed to talk to every vendors possible during the weekend (chatter box he is!) while Lucie enjoyed the Friday and Saturday evening programming, none other than the raves! We can't thank all of you enough for stopping by that weekend, making it a huge success for Lemonbrat!
.
.
.
.
The theme of the weekend was discount central! We had all of our new long dog scarves, and tassel hats at this show, on top of a huge touchable discount wall of merchandise for everyone to feast their eyes on! (And hands too since you could touch it all!). Anime Apocalypse attendees really enjoyed the touch wall, and seemed to spend every last penny of their Holiday money with us at the Lemonbrat Booth =D
The convention would not have been as smooth if it wasn't for the help of the con staff helping us move in our massive booth and get everything set-up to enjoy the show! Props to Anime Apocalypse for their increase in attendance and excellent programming that made this convention enjoyable from every aspect.
The Lemonbrat Team is excited to come back for Anime Apocalypse 2014 and we hope to see you all there!
Matt and Ryan were out in Indianapolis for Anime Crossroads this past weekend.  The convention was held at the Wyndham Indianapolis West and was an absolute blast according to the dynamic duo.  While Ryan got to talking with our good friends over at OTP over all things Kamen Rider, Matt spent his spare time ogling the Tabletop Gaming area and all the rich, board gamey goodness it contained.  Of course, the real stars of the show were all the Lemonbrat fans and customers that stopped by!
This was our first anime con to feature our new long dog scarves and tassel hats and we're very happy to report that they were a huge success!  The booth also had all our classic rave gear and animal hoodies, but the biggest hit had to be our Lemon Squeezies.  Seems like the folks in Indy really loved the massive variety of animals that we had available and the booth was a constant chorus of happy squeaking sounds (though a lot of that can probably be attributed to Ryan).  Anime Crossroads' attendees also really enjoyed just hanging out at the booth and chatting, which we always enjoy!
Special thanks should be given to the hotel and it's staff, too.  This was their first year hosting Anime Crossroads and they were incredibly helpful and courteous.  Setting up was a breeze with their help (and the booth looked great with the extra tables they provided).  Matt was a particular fan of the Wyndham's concession stand – they had chili, burgers, and even freshly made stir fry all weekend long!  As if that wasn't good enough, the con staff were all very cool and dedicated to making Anime Crossroads the best show it could be.  They had lively programming going on all weekend – fan panels, arcade games outside the dealer's room and an Artist Alley that was always jumping with activity.
For everyone who stopped by to say hello, thank you so much!  Matt and Ryan are already chomping at the bit to visit Anime Crossroads next year!