lemonbrat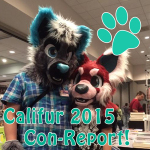 Califur 2015 was full of new beginnings for the Lemonbrat team! For the first time, we unveiled con-exclusive items; two kigurumi fitting the kemono theme for that year. Our "Kawaiizilla" and "Maneki Neko" kigus were a bit hit online, and the Kawaiizilla was given a great home to our Hyena Agenda friends before the dealer's room even opened Friday morning! Thanks guys! <3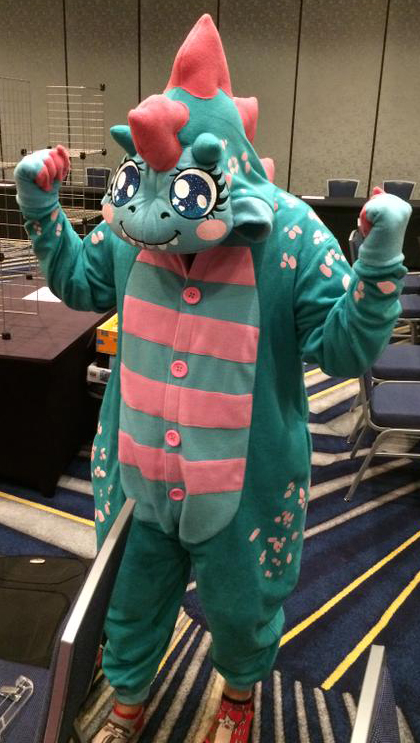 We also picked up a few cute goodies from our new friends Kilcodo and Onelani! Kilcodo had adorable fursuit prop doughnuts on her table this year, as well as these little batties! We couldn't resist. And we had been after a plush from Onelani for some time, and finally got one! An adorable manatee, straight from the sea.

Another kickoff for us was the start of our premade fursuit partials! We created 2 fursuit heads, with paws and tails to sell at Califur. To our surprise, they also sold before the dealer's room opened! The couple who purchased them were so excited to put them on, and immediately commissioned art of their new characters, Viral and Hana! <3 We had a small photo-shoot later that day with them and got some great pics!
You can follow them on twitter here!: https://twitter.com/Viral_Hana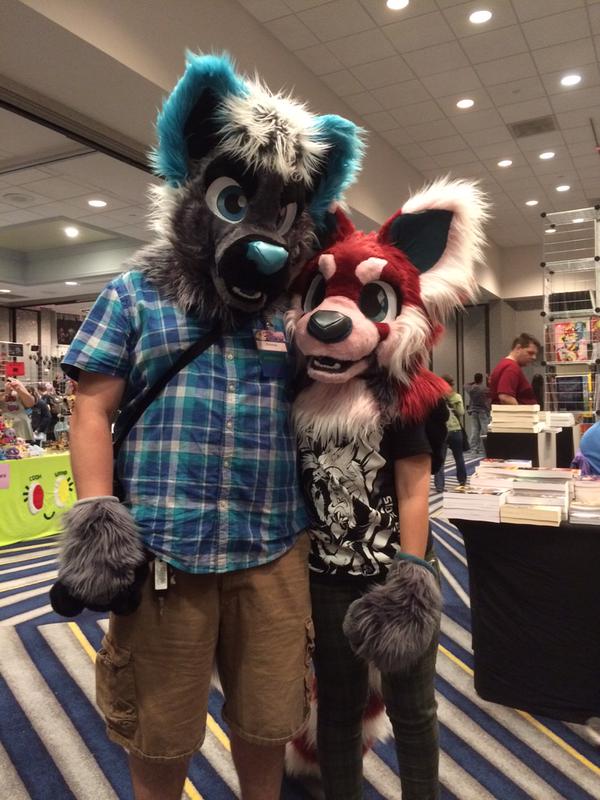 It's sad that the convention will no longer be held at the beautiful Irvine Marriott, but there's an excitement in our team to see the location for next year. Goodbye, yummy melon-infused water!
Our pick-up coupon codes allow you to place any order you could want and pick it up at the convention from our booth during dealer's room hours. The coupon codes are valid until 1 week before the convention.
Use the code to guarantee you get the item you want in the size you need and remember – you can also place an order for custom items with sleeves, color swaps and other sweet options! We'll have it ready and waiting for you and you won't have to pay for shipping!
Convention season is well underway and we've been super busy at the Lemonbrat Studio.  Between packing up for shows and finally finishing up our spring cleaning we've barely had time to take a breath!  Luckily, we've slowed down just enough for me to reach out to all you wonderful followers and give you an update on what sort of mischief we'll be getting up to in July.

First up on our list is Anthrocon in Pittsburgh, PA, July 3rd-6th.  This is the biggest fur show of the year and we're sending Barb and Mike undercover to see what sort of mysteries they can uncover about this year's theme – Secret Societies.  We're expecting a lot of cryptic handshakes and passwords from everyone who comes by the booth to check out our animal hoodies, tail & ear sets and more.  Make sure to announce "The Husky Howls for Cheeseburgers" if you're interested in getting a custom item based off your own character or fursona!
Join in on the Anthrocon fun by checking out our Facebook event here – https://www.facebook.com/events/323810734436762/

While Barb and Mike engage in covert ops (which sounds hecka-cool), Matt and Ryan will be representing some hometown pride at Anime Midwest in Rosemont, IL, July 4th-6th.  Since 2011, Anime Midwest has been growing and we're always happy to support another great con in our own backyward!  Get your adorable on with all our greatest hits – animal hoodies, tails & ears, rave gear and more!
Join in on the Anime Midwest fun by checking out our Facebook event here – https://www.facebook.com/events/1620302481529012/

Wrapping up the month of July is an old favorite of ours, Anime Iowa in Coralville, IA, July 25th-27th!  We've been going to this radtacular gathering for over 3 years now and we're chomping at the bit to head out and see all you Hawkeye State natives again!  Matt and Ryan will be teaming up to take on this show and you better believe they're bringing a torrential downpour of cuteness that you are not prepaed for!
Join in on the Anime Iowa fun by checking out our Facebook event here – https://www.facebook.com/events/308929249269569/
We've been slaving away all week on a brand new project for you guys and I'm very happy to share it with you today!  Our elite design team has been creating and categorizing a collection of custom choices that you can now peruse at your leisure to create a design that is 100% unique!  By going to the "Draw Your Own Custom" section on Lemonbrat.com you can select a blank template that you can upload into any handy picture editing software and color, alter and personalize.  You can even print them out and color them yourself by hand and scan them for submission!
These "blanks" are the first step in making it easier for everyone to create their own custom hoodies.  In the future, we'd like to incorporate more elements that will make the entire custom order process something like a character designer for a videogame.  Soon you'll be able to add various ear styles, chest tufts, tails and more!  Our goal is to standardize some of the most popular options in order to keep costs down while simultaneously offering a huge gallery of choices that will give you everything you need to help realize your particular vision.
For now, the "blanks" are an exciting doorway into what we have planned for custom orders and designs and we hope you guys will be as excited as we are to try out you own alterations and color combos with these handy reference images!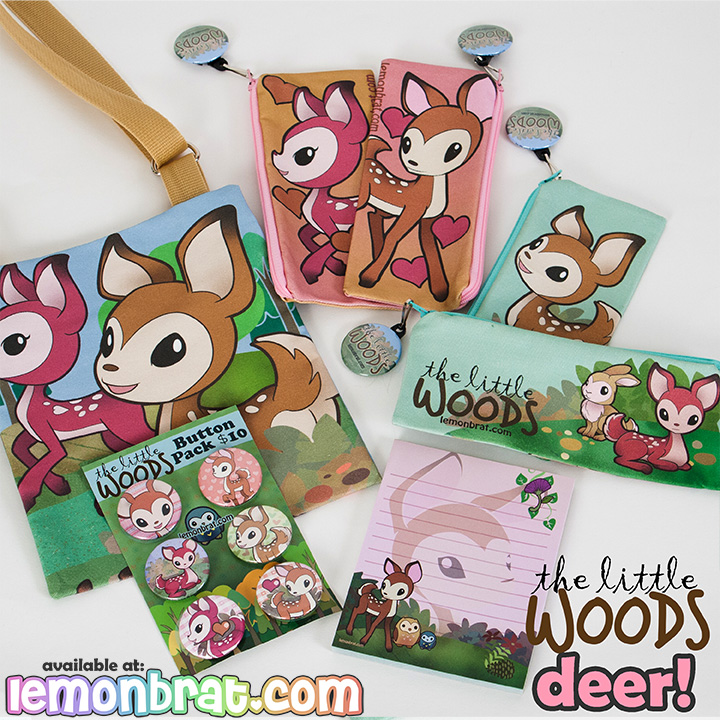 It's easy to fawn over the deer of the Little Woods!  These happy little ungulates love hanging out in the glades and clearings of the Little Woods.  You can find them on all sorts of great gear on Lemonbrat.com, though!  Check out our pencil cases, notepads, satchel & tote bags and so much more!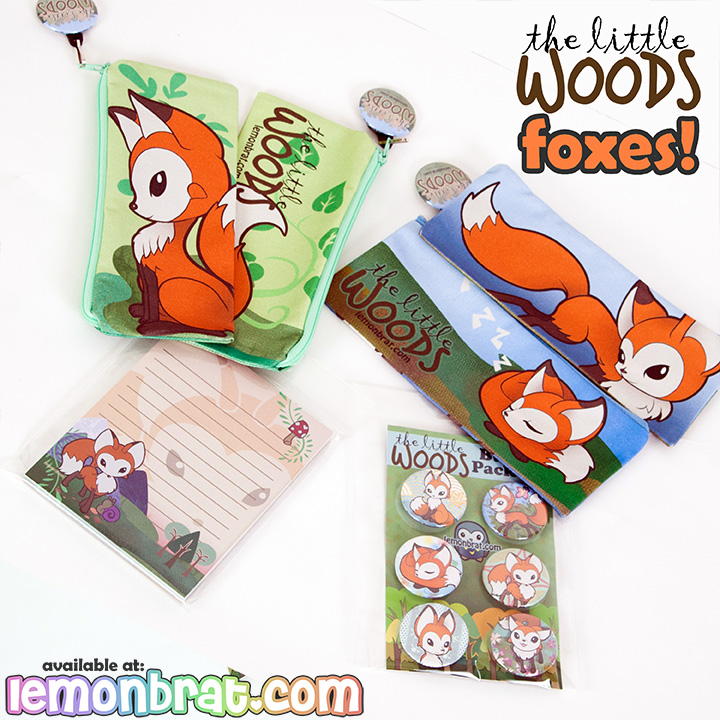 The foxes of the Little Woods are clever, curious, cunning and downright cute!  In addition to the great tote and satchel bags featuring these sly little forest dwellers, we also have a wonderful variety of stationery, buttons and other accessories.  Check them out in The Little Woods Collection!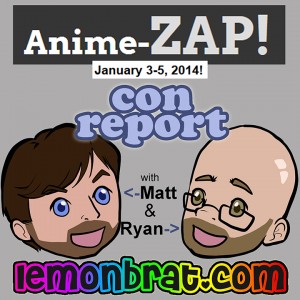 .
.
Matt and Ryan hit the road again this past weekend (January 3rd-5th) for Anime-ZAP in Peoria, IL!  The convention was held at the delightful Embassy Suites Hotel and their adjoining conference center.
While small, the con had plenty of opportunities for our boys to chat with attendees and make some new friends.  Even when the weather turned south and the power went out (seriously!) there was a great sense of solidarity and camaraderie that permeated this show!
As you can see, we pulled out all the stops on our winter wear and Lemon Squeezies!  With the snow, people were looking to bundle up and the new corgi and wiener dog scarves were irresistible.  Our rave hoodies were also a popular item and we had several other vendors and artists come up and buy some before the dealer's room had officially opened on Friday!  Speaking of fellow vendors, the folks at Lilly Inverse Designs and Little House of Crafting deserve a shout out for being rad neighbors (and because Ryan accidentally pulled all their grid wall down on his own head).
After the dealer's room closed, Ryan and Matt spent time teaching folks how to play the My Little Pony collectible card game from Enterplay.  Right now the whole Lemonbrat office is caught in the death grip of MLP card game fever, but Ryan at least found time to geek out about kaiju movies with a few attendees while Matt broke away to host some very excellent games of Ultimate Werewolf.  It was all fun and games until the snow rolled in Saturday evening. With over 3 inches falling on an already snow-laden con and a cold snap bringing temperatures down to -20 with the windchill, Anime-ZAP unfortunately ended on a somber note.
Despite weather woes, however, the show was a lot of fun and we will very likely be back next year!  Thanks to all of you who stopped by!
Come take a walk in The Little Woods!
We've been showcasing our new designs for the Fruit Bats for the past week, but that's not the only trick we have up our sleeve for 2014!  The charming critters of The Little Woods are also making their debut this month.  This delightful realm is home to all manner of graceful, endearing creatures.  Foxes prance and hunt between the tall trees.  Deer graze and play in sun-soaked meadows.  And all throughout the little woods, various critters go about their adorable daily duties.
With so many great animals to choose from, we have a wide variety of new products to showcase!  We're starting off with 4 different button sets comprised of 6 unique buttons featuring owls, foxes, deer and critters.  We'll also have a line of collectible bookmarks for you literary types out there as well as stationery and note pads to keep in touch with your friends.  Of course, you'll need to carry all this awesome stuff – that's where the tote bags come in!  These stylish bags will be 15 inches by 16 inches with an open top and gussets in the bottom to expand them to 4 inches wide.  They're great for carrying around all your convention goods!  Within the next few weeks, we'll also be producing pencil bags, patches and new animal sets to help you explore The Little Woods!
Last week we teased you guys with a few of our new Fruit Bat designs.  Since then, we've been blowing up Twitter, Facebook, Tumblr and DeviantART with even more Fruit Bats!  The full line-up now includes Peach, Strawberry, Raspberry, Blueberry, Watermelon, Apple, Pineapple, Grape, Kiwi, and Lemon!  We've got big plans for this colony!  Stay tuned for updates including tote bags, buttons, pencil cases and more!