Site News
Changes, updates, cool new features added to our website!
We've been slaving away all week on a brand new project for you guys and I'm very happy to share it with you today!  Our elite design team has been creating and categorizing a collection of custom choices that you can now peruse at your leisure to create a design that is 100% unique!  By going to the "Draw Your Own Custom" section on Lemonbrat.com you can select a blank template that you can upload into any handy picture editing software and color, alter and personalize.  You can even print them out and color them yourself by hand and scan them for submission!
These "blanks" are the first step in making it easier for everyone to create their own custom hoodies.  In the future, we'd like to incorporate more elements that will make the entire custom order process something like a character designer for a videogame.  Soon you'll be able to add various ear styles, chest tufts, tails and more!  Our goal is to standardize some of the most popular options in order to keep costs down while simultaneously offering a huge gallery of choices that will give you everything you need to help realize your particular vision.
For now, the "blanks" are an exciting doorway into what we have planned for custom orders and designs and we hope you guys will be as excited as we are to try out you own alterations and color combos with these handy reference images!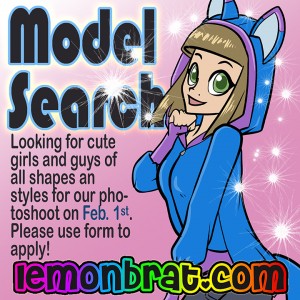 .
.
That's right, we're looking for models!  Lemonbrat will be doing a photoshoot on February 1st and we'd love to have you come and look adorable in our hoodies and accessories!
to find out all the details and fill out an application.  Models will be compensated with a $50 gift card and copies of photos to add to their portfolio!
Last week we teased you guys with a few of our new Fruit Bat designs.  Since then, we've been blowing up Twitter, Facebook, Tumblr and DeviantART with even more Fruit Bats!  The full line-up now includes Peach, Strawberry, Raspberry, Blueberry, Watermelon, Apple, Pineapple, Grape, Kiwi, and Lemon!  We've got big plans for this colony!  Stay tuned for updates including tote bags, buttons, pencil cases and more!
2013 is almost over, but we thought we'd pull one more trick out of our sleeve here at Lemonbrat.  These adorable Fruit Bat designs are going to be part of a few new products available in 2014.  We'll have more images for you all week long as well as some polls to see what you guys think about these new critters!
We often get questions about whether or not we can make a hood for this animal or a tail in that color.  The short answer to this question is always 
yes
!  Our 
Custom Item
 section gives you all the options you need to create exactly what's in your head!